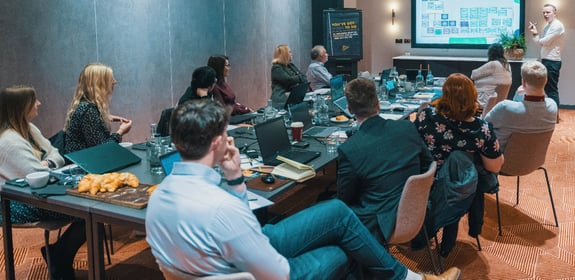 ABOUT US
Who Are We?
TRUSTED SCIENTISTS THAT DECARBONISE®️
With an impressively diverse team of Scientists, Tunley Environmental is wholly committed to the decarbonisation of the Earth.
Our science-based approach and commercial aptitude ensures we identify realistic opportunities to reduce the negative impact your organisation and products have on the environment. Our employees are our most valuable asset, and we strive to create a positive and supportive work environment.
What are the benefits about working for Tunley Environmental?
At Tunley, we have numerous benefits for our employees. We value our team and like to ensure that they have the right work-life balance. Take a look at our added benefits here.
TOUCH
Mission
Mission
Our mission is to accelerate sustainability globally, we are going to do this by:
Educating
Delivery
Speed
Desirability & Benefits
TOUCH
Vision
Vision
"TO EMPOWER SUSTAINABILITY SOLUTIONS."
TOUCH
Values
Values
As a company, we encompass the values of:
Collaborative
Future Focused
Honest
Bold
Passionate
Customer-centric
"It's surely our responsibility to do everything within our power to create a planet that provides a home not just for us, but for all life on Earth." -

Sir David Attenborough
OUR HISTORY
Frank Tunley, Dr Will Beer's great-grandfather, was a pattern maker for Laycock Engineering in Sheffield. From the 1920s until the 1960s, he worked on a wide range of power transmission and garage equipment products.
Will and Peter have always been fascinated by engineering and design. For many years, they have repaired and re-built motorcycles and cars in their spare time, and they're continually looking to create new designs that could improve the world.
Will and Peter's passion for engineering and their concern for the environment led to the creation of Tunley Engineering. With their deep knowledge and experience in engineering, they saw an opportunity to make a positive impact on the world by helping businesses reduce their carbon emissions. Their vision for a cleaner, more sustainable future inspired them to build a successful carbon reduction business that has since helped numerous clients to achieve their environmental goals.
2016
The early concept of what would later become 'Tunley Engineering' began in 2016 by Dr William Beer, who through his Engineering Experience realised, just by improvement of processes you could make long-lasting changes to lead times. Regularly William would complete four hours early morning before work.
2017
'Tunley Engineering' becomes a registered company and William Beer commits fully to building a company. Supporting those that 'design what they sell' to improve lead times and processes. In the year 2017, Tunley landed it's first customer.
2018
After great success, Tunley landed it's first global contract! Going even further and adopting a Cloud-based BMS in Q3 of 2018. Tunley also achieved ISO9001:2015 in Q4 ensuring its commitment to quality.
2019
After seeing a significant, percent turnover growth the company grew by 50% from 2018. Shortly after, the number of positive testimonials began to skyrocket. After numerous assessments we expanded into providing training solutions to engineers. Our company turnover increased by 111% on the previous year
2020
Like many companies, Covid forced us to rethink how we operate. Tunley was already working 100% remotely so we continued to provide high-quality support without needing to be on-site. Our company turnover increased by 8% on the previous year.
2021
The launch of 'Engineering a Decarbonised Future' saw Tunley Engineering's most ambitious move to date. Assembling a team of market leading carbon experts with a passion to make a difference. 2021 saw Tunley Engineering not only deliver its most impressive growth to date, but help our customers make a positive impact on reducing their carbon emissions. Our company turnover increased by 100% on the previous year
2022
Over time we have seen substantial growth in our Embodied Carbon Assessments and an increased in re-occurring revenue contracts. Our company turnover increased by 53% on the previous year
2023
Since starting, 2023 is currently our highest employment year, with 17 members of staff, of which 10 are Scientists. Our company turnover is predicted to increase by 189% on the previous year. In the year 2023, Tunley expanded and Tunley Engineering became Tunley Environmental. There are new services being developed on the horizon to provide full sustainability support for organisations looking to create a better future for our planet.
Testimonials
DON'T JUST TAKE OUR WORD FOR IT
"This is by far the most useful and practical course I have been on and has been the deciding factor in our actual implementation of a business carbon assessment. This is because it has given us the correct details on how to actually go about doing the calculation, rather than just why it is important. We now have the knowledge in our company to continue with this work and improve our performance."
R&D Environment and Education Manager
"Tunley Engineering were very efficient from start to finish of our project. For our team, it was very new and untouched territory going into the sustainable, carbon neutral world but our engineers were very patient at explaining the different scopes and what was required from us to reach our sustainable goal. They are stuck to our timelines so we were able to show off the hard work we had put in during our awards presentation, the day after we had our final meeting. As a company we will be doing more projects under carbon neutral banner so would be willing to use Tunley again to make this happen."
Event Executive
"It w an absolute pleasure to work with Tunley right from the quotation stage to the final presentation. Everything was explained perfectly and all questions answered."
Purchasing Manager
"At Sound United, one of our core values is that 'Our Obligation is Bigger than Us'. When implementing ESG, we needed to understand our baseline for carbon footprint in order to understand how we could reduce our impact on the environment. Tunley's knowledgeable team of professionals knew what we were looking to do, and worked quickly with our global team to gather and analyse our data. Throughout the process, they were easy to work with and on time on their delivery schedule. I highly recommended Tunley's service."
SR. Director of Global Service Operations
"Tunley Engineering has been great support through our carbon assessments. Torill completed an embodied carbon report on one of our products, we used the embodied carbon report and submitted to MAKE UK sustainability regional awards and won for our region. Great to be working with Tunley and the team and look forward to reaching our goal of net zero which I know we can with the support and expertise of the team."
HSQE Manager
"The COVID-19 pandemic has demonstrated how the unimaginable can change the world overnight. Human-made climate change has the same potential to impact our world and requires the right decisions and urgent action now. Optima Products Ltd has committed to achieving net zero GHG emissions in its own operations by 2035, as a manufacturer this will necessitate significant changes. We have therefore engaged with Tunley Engineering to partner us in delivering this commitment."
Managing Director
"I'm very grateful to Tunley Engineering for their professional and thorough approach to our business and product assessment. We brought some complicated and novel requirements and they tackled these with enthusiasm, including tackling novel research. I would highly recommend them to anyone requiring a carbon assessment."
CEO
Get In Touch
LET'S HAVE A CHAT AND TALK ABOUT YOUR ORGANISATION
Our Clients
WHO WE'VE WORKED WITH
We are exceptionally proud of the work we complete and good it is doing for the World. Here is a snippet of some of the organisations we have helped start their Net Zero journey.