WIN CONTRACTS WHILE GOING GREEN WITH PROCUREMENT POLICY NOTE
In June 2021, the government released the Procurement Policy Note (PPN) 06/21. The PPN is a crucial government initiative that aims to tackle climate change and support the UK's commitment to achieving Net Zero Emissions by 2050.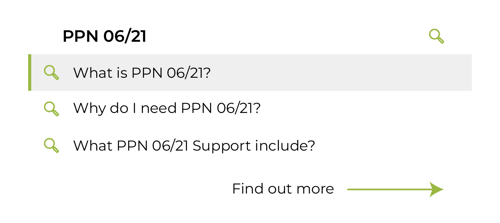 Net Zero Emissions
STAY COMPLIANT WITH THE UK'S NET ZERO EMISSIONS GOAL
With the implementation of PPN 06/21, it's more important than ever to ensure your company is calculating its carbon footprint.
Don't let carbon footprint calculations hold you back from securing government contracts. With PPN 06/21, it's now mandatory for companies to calculate their carbon footprint when bidding on central government or public contracts over £5 million per annum. From April 2024, it will be mandatory for all companies who are suppliers for the NHS. Our solution simplifies the process, ensuring compliance with the UK's Net Zero Emissions Goal by 2050.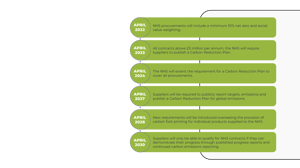 ENSURE COMPLIANCE AND REDUCE YOUR CARBON FOOTPRINT
If you and your organisation would like to find out more about PPN 06/21, get in touch with our team of experts today.
Why Do I Need To Implement PPN?
4 ADDED BENEFITS OF PPN IMPLEMENTATION
01 ENVIRONMENTAL IMPACT REDUCTIONS
By calculating and addressing carbon footprint, companies and organisations can identify opportunities to reduce emissions throughout supply chains and operations. This leads toa more sustainable and environmentally responsible approach to procurement.
02 COMPETITIVE ADVANTAGE
Implementing PPN 06/21 not only demonstrates a commitment to sustainability but also enhances a company's competitive edge. Businesses that actively manage and reduce their carbon footprint are increasingly sought after by government entities and environmentally conscious consumers.
03 LONG-TERM COST SAVINGS
Focusing on carbon reduction can lead to long-term cost savings through improved resource efficiency, educed energy consumption, and optimised supply chain practices. By incorporating sustainable procurement practices, companies can drive innovation, increase operational efficiency, and lower overall costs.
04 CONTRIBUTION TO NATIONAL CLIMATE GOALS
PPN 06/21 ensure that public procurement practices align with the UK's National Climate goals. By collectively working towards achieving Net Zero Emission, companies and organisations play a vital role in combating climate change and building a sustainable future.
"Working with Tunley Environmental to meet the UK Government's PPN requirements 06/21 was a seamless experience. As first-timers in greenhouse gas emissions screening and carbon reduction planning, ARK Group DMCC was initially uncertain about the process. Tunley not only provided swift and efficient service but also offered invaluable step-by-step guidance for our data collection. Their exceptional communication and support made the entire process comprehensible and manageable. Their team is undoubtedly professional and a pleasure to collaborate with. Given the opportunity, we wouldn't hesitate to partner with Tunley Environmental for future projects. A 10/10 experience!"
Compliance
ENSURE COMPLIANCE WITH PPN 06/21
With PPN 06/21, you can ensure compliance with government regulations while also reducing your carbon footprint. Measure Scopes 1 and 2 of your carbon emissions in full and quantified the required Scope 3 categories to stay aligned with the UK's Net Zero Emissions Goal by 2050.
Back in September 2021, the NHS England Public Board approved a roadmap to help suppliers align with the net zero goals from now until 2030. Below is a detailed supplier roadmap to net zero.
From April 2022:
NHS procurements will include a minimum 10% net zero and social value weighting. The net zero and social value guidance for NHS procurement teams will help unlock health-specific outcomes.
From April 2023:
All contracts above £5 million per annum, the NHS will require suppliers to publish a Carbon Reduction Plan for their UK Scope 1 and 2 emissions and a subset of Scope 3 emissions as a minimum. The Carbon Reduction Plan requirements for the procurement of NHS goods, services, and works guidance outlines what will be required of suppliers and how it will be implemented.
From April 2024:
The NHS will extent the requirement for a Carbon Reduction Plan to cover all procurements.
From April 2027:
Suppliers will be required to publicly report targets, emissions and publish a Carbon Reduction Plan for global emissions aligned to the NHS net zero target, for all of their Scope 1, 2, and 3 emissions.
From April 2028:
New requirements will be introduced overseeing the provision of carbon foot printing for individual products supplied to the NHS. The NHS will work with suppliers and regulators to determine the scope and methodology.
From April 2030:
Suppliers will only be able to qualify for NHS contracts if they can demonstrate their progress through published progress reports and continued carbon emissions reporting through the Evergreen sustainable supplier assessment.
Want To Know More?
FREQUENTLY ASKED QUESTIONS
WHAT IS PPN 06/21?
Public Procurement Notice 06/21 (PPN) states that, by 30th September 2021, every entity bidding on UK public contracts worth £5 million or more will be required to measure their carbon footprint and have a Net Zero Carbon target for 2050 in place. It is often referred to as a "Carbon Reduction Plan" on the tendering and bidding documentation. Moreover, from April 2024 onwards, the National Health Service (NHS) will broaden the mandate for PPN 06/21 to encompass all procurement activities, regardless of their value. Seek more information in our insight 'What is PPN and Why is it Important?'
WILL HAVING A PPN 06/21 GUARANTEE I WIN A PUBLIC CONTRACT?
No. Whilst a PPN 06/21 means you are not excluded from the bidding process; it doesn't guarantee you will win the contract. It is worth noting organisations that demonstrate consideration for the environmental, social and other impacts your organisation has on delivering the contract does make you look more favourably when tendering for bids (among other factors such as cost, expertise and lead times).
WHY DO I NEED PPN 06/21?
A PPN 06/21 is used so the UK government can assess if the bidder has taken steps to understand their environmental impact and carbon footprint relevant to the delivery of the contract. Failing to comply with this legislation means exclusion from the bidding process.
DO I NEED TO SUBMIT MY PPN 06/21 ALONGSIDE MY ORGANISATION'S FULL CARBON REPORT?
This is optional. Although it is great to be transparent, you do have to put yourself in the shoes of the decision-maker. Will they want to read a full report on your organisation's emissions, or do they want to read only what is required under PPN 06/21? We advise it's worth asking the question however we provide a separate report to your Business Carbon Assessment (BCA) that specifically covers the mandatory subsets of GHG emissions.
PPN 06/21
INSIGHTS OF INTEREST
Tunley Environmental has collated related Insights to provide more in depth information on PPN 06/21. Take a look below to find out more.
Testimonials
DON'T JUST TAKE OUR WORD FOR IT
"This is by far the most useful and practical course I have been on and has been the deciding factor in our actual implementation of a business carbon assessment. This is because it has given us the correct details on how to actually go about doing the calculation, rather than just why it is important. We now have the knowledge in our company to continue with this work and improve our performance."
"Tunley Environmental were very efficient from start to finish of our project. For our team, it was very new and untouched territory going into the sustainable, carbon neutral world but our engineers were very patient at explaining the different scopes and what was required from us to reach our sustainable goal. They are stuck to our timelines so we were able to show off the hard work we had put in during our awards presentation, the day after we had our final meeting. As a company we will be doing more projects under carbon neutral banner so would be willing to use Tunley Environmental again to make this happen."
"It w an absolute pleasure to work with Tunley Environmental right from the quotation stage to the final presentation. Everything was explained perfectly and all questions answered."
"At Sound United, one of our core values is that 'Our Obligation is Bigger than Us'. When implementing ESG, we needed to understand our baseline for carbon footprint in order to understand how we could reduce our impact on the environment. Tunley Environmental's knowledgeable team of professionals knew what we were looking to do, and worked quickly with our global team to gather and analyse our data. Throughout the process, they were easy to work with and on time on their delivery schedule. I highly recommended Tunley's service."
"Tunley Environmental has been great support through our carbon assessments.
Torill
completed an embodied carbon report on one of our products, we used the embodied carbon report and submitted to MAKE UK sustainability regional awards and won for our region. Great to be working with Tunley and the team and look forward to reaching our goal of net zero which I know we can with the support and expertise of the team."
"The COVID-19 pandemic has demonstrated how the unimaginable can change the world overnight. Human-made climate change has the same potential to impact our world and requires the right decisions and urgent action now. Optima Products Ltd has committed to achieving net zero GHG emissions in its own operations by 2035, as a manufacturer this will necessitate significant changes. We have therefore engaged with Tunley Environmental to partner us in delivering this commitment."
"I'm very grateful to Tunley Environmental for their professional and thorough approach to our business and product assessment. We brought some complicated and novel requirements and they tackled these with enthusiasm, including tackling novel research. I would highly recommend them to anyone requiring a carbon assessment."