CUSTOMISED CARBON TRAINING FOR MAXIMUM IMPACT
Our comprehensive and practical training courses are designed to equip professionals at all levels with the knowledge and skills needed to effectively manage and reduce their organisation's carbon footprint.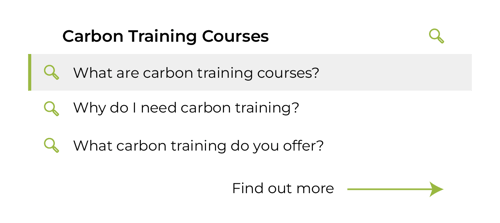 Training Courses
DEVELOP EXPERTISE AND EXCELLENCE
We provide bespoke training tailored to our client's needs, ensuring the content is relevant and meets the objectives of each organisation. Our scientists have extensive knowledge in carbon management, and we use real-life case studies and practical exercises to ensure our courses are engaging and memorable. Whether you are looking to improve your understanding of carbon management, reduce your organisation's carbon footprint, or need carbon literacy training to meet compliance requirements, our carbon training courses can help you achieve your goals.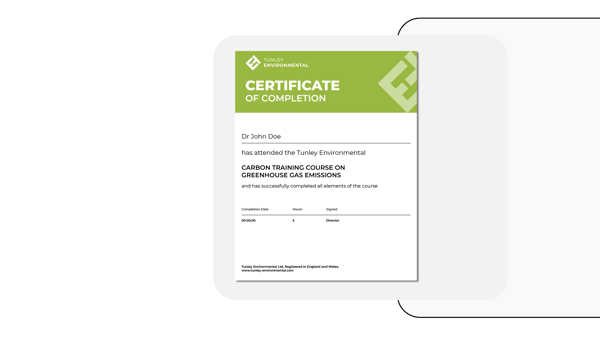 REQUEST CARBON TRAINING COURSES
Find out more information about our Carbon Training Courses to see which one suits your needs best.
Take The First Step
TOWARDS A SUSTAINABLE FUTURE
Climate change is an increasingly important topic, so much so that scientists now refer to it as the Climate Crisis. Coupled with ever more stringent legislation and requirements upon businesses to measure, report and reduce carbon by finding equivalents, businesses can no longer afford to ignore this important topic. In this course, we offer crucial background information for those wanting to learn about why the Climate Crisis is happening, and what businesses can do to help.
Our carbon reduction course builds on the introduction to carbon course and the carbon for business course. It is suitable for delegates considering taking the important step of obtaining an officially recognised certification for their carbon assessment, reporting and carbon reduction achievements.
Training
INSIGHTS OF INTEREST
Tunley Environmental has collated related Insights to provide more in depth information on training opportunities. Take a look below to find out more on Carbon Training.
Training Testimonials
DON'T JUST TAKE OUR WORD FOR IT
"The information shared was both clear and really relevant to our business. Luan was incredibly knowledgeable and was able to put the information in the context of our sector of the market."
"Really useful course. Made a daunting subject much clearer with expert knowledge and very productive break out sessions."
"This was a useful course - the presenters were knowledgeable and engaging, working well with our situations and our data, so very much real and unplanned scenarios. They were also visibly passionate about the subject, which was infectious. I would thoroughly recommend Tunley!"
"Very interesting and helpful to SMEs trying to learn more about how to calculate their carbon footprint."
"Very good training sessions, with
Dr Torill Bigg
who were very interesting, patient, she was able to provide us with all the useful, necessary and very relevant ins and outs. Bravo to her and to you."
"This is by far the most useful and practical course I have been on and has been the deciding factor in our actual implementation of a business carbon assessment. This is because it has given us the correct detail on how to actually go about doing the calculation, rather than just why it is important. We now have the knowledge in our company now to continue with this work and improve our performance."
"I'm very grateful to Tunley Environmental for their professional and thorough approach to our business and product assessment. We brought some complicated and novel requirements and they tackled these with enthusiasm, including tackling novel research. I would highly recommend them to anyone requiring a carbon assessment."